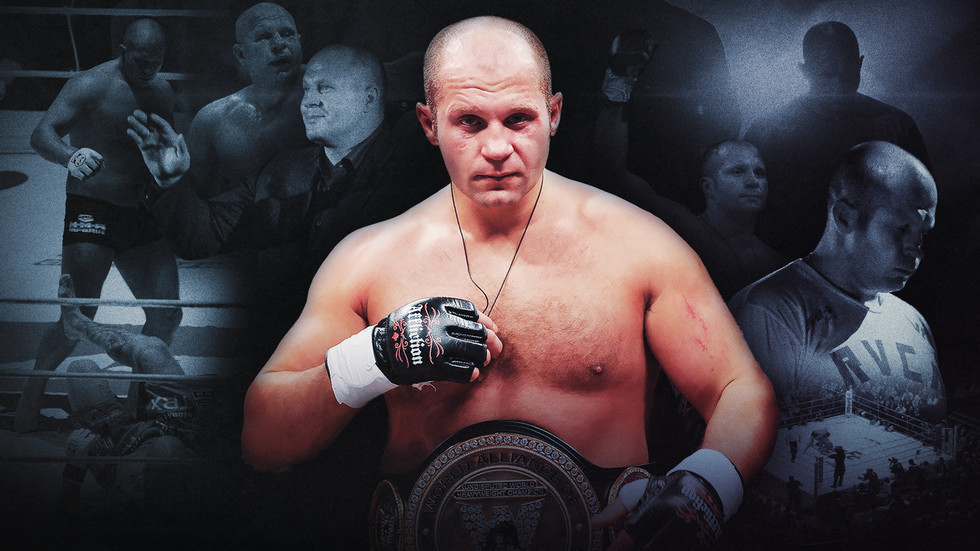 The curtain comes down on one of the most illustrious careers in mixed martial arts this weekend when Fedor Emelianenko competes at Bellator 290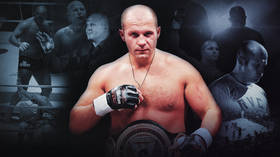 © RT
On Saturday night in California, mixed martial arts will wave a final goodbye to Fedor Emelianenko, a man widely regarded as among the best fighters of all time. It is fitting that the last contest for 'The Last Emperor' will be for the heavyweight world title at Bellator 290, where he will be afforded the chance to avenge a previous defeat to US rival Ryan Bader.
But win or lose, Emelianenko's legacy as one of MMA's most revered fighters is already secure, following a career that has spanned more than 20 years.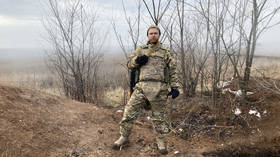 Read more 'This conflict will fundamentally change Russia': A young Muscovite explains why he volunteered to fight Ukraine
Remaining undefeated for almost a decade at his peak, the 46-year-old Russian is a legend to fans and fellow fighters, producing some of the most memorable moments his sport has ever witnessed.
While Russia has seen the emergence of megastars and champions in UFC, Bellator, and other leagues, it was Emelianenko who made his mark as his country's first true MMA icon.
EARLY YEARS
Born in 1976 in the city of Rubizhne in Lugansk, Emelianenko was brought up in a working-class family headed by a welder father and teacher mother in the Belgorod region of western Russia.
Starting to practice Sambo and judo around the age of 11, Emelianenko was not a standout pupil according to his former instructor Vladimir Voronov, but was a hard worker.
After a spell in the Russian Army from 1995-1997, Emelianenko received Master of Sports certification and competed for the Russian national team, before deciding to pursue a professional career in MMA.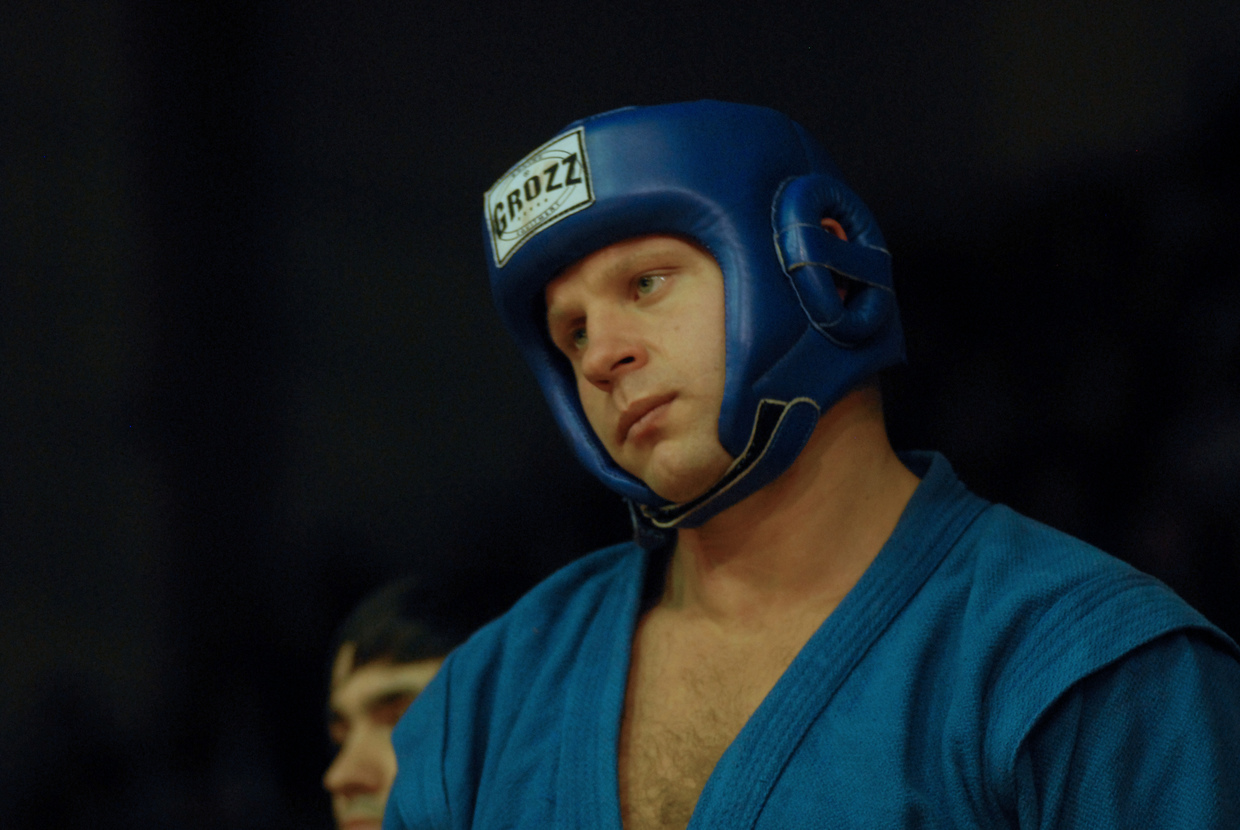 Emelianenko pictured competing at a Sambo event in 2009 – he has a longstanding love of the sport. © RIS Novosti / Mikhail Besnosov
Appearing under the banner of the 'Rings' promotion, Emelianenko impressively submitted Bulgarian rival Martin Lazarov via a guillotine choke in round one of his 2000 debut in Ekaterinburg.
The result set off an impressive 4-0 start to Emelianenko's career, although in his second contest on foreign shores he suffered a controversial loss to Tsuyoshi Kohsaka in Osaka after just 17 seconds due a TKO doctor stoppage.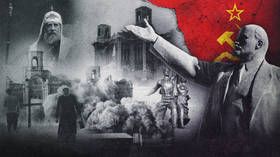 Read more 'There is no God here': How conflict between the Orthodox Christian Church and the Soviet Union helped define modern Russia
'THIS GUY'S NOT HUMAN'
It was to be a decade before Emelianenko tasted defeat again as he embarked on an iconic unbeaten run between April 2001 and June 2010 which has become the stuff of MMA folklore.
Finishing a multitude of rivals in the first round by submissions and knockouts, Emelianenko's 28-fight unbeaten streak included the scalps of four ex-UFC champions, a Pride FC champion, one former and two future K-1 champions, and two Olympic medalists.
Moving on to join the Japanese-based Pride Fighting Championships in 2002 after winning the Rings 'King of Kings' tournament, Emelianenko entered the title picture a year later when he met the heavily-favored Brazilian Antonio Rodrigo Nogueira as an underdog at Pride 25.
Nogueira had won the 'King of Kings' tournament himself in 2000, when Emelianenko had been controversially eliminated by Kohsaka. The Brazilian was also coming off big wins against Bob Sapp and Hearth Herring, and was feared due to his durability and jiu-jitsu submission skills.
That was no matter for Emelianenko, who neutralized the threat from Nogueira before brutally dominating with a ground and pound to earn a unanimous decision win. Emelianenko was crowned just the second heavyweight champion in Pride history.
According to Fedor himself, his contest with Nogueira, which ended the Brazilian's 14-fight unbeaten streak, remains his favorite. "I had to activate my fighting IQ and find keys to victory. At that time, he was the best fighter in the world," said the Russian.
Going on to win a Heavyweight Grand Prix and avenging his defeat to Kohsaka, Emelianenko then took part in what was to be widely dubbed as MMA's 'Fight of the Decade' when he beat Croatian great Mirko Cro Crop by unanimous decision in August 2005, despite having his nose broken.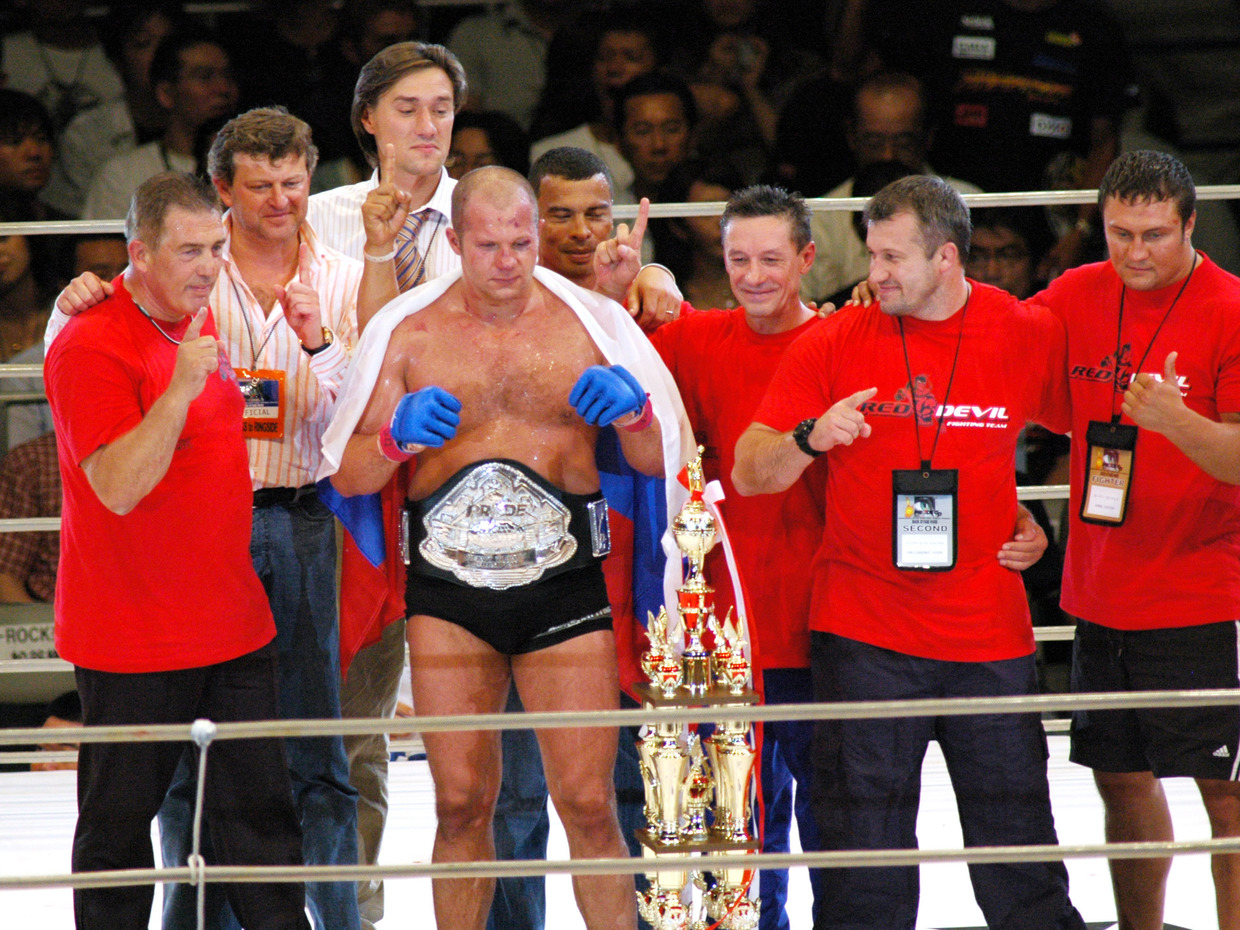 Emelianenko's fight with Cro Cop would go down in history. © Tomokazu Tazawa / Getty Images
Emelianenko never lost his Pride heavyweight title and successfully defended it for the last time against Mark Hunt on New Year's Eve 2006.
That was followed by a win against South Korean giant Hong-man Choi, in a fight where Emelianenko made light of the almost laughable size difference between the pair.
In 2007, Emelianenko used a special clause in his contract that allowed him to fight under other banners as long as the event was held on Russian soil.
Emelianenko beat Matt Lindland in St. Petersburg, and then won the inaugural World Alliance of Mixed Martial Arts (WAMMA) heavyweight championship with a Submission of the Year in July 2008 over Tim Sylvia after just 36 seconds at 'Affliction: Banned'.
"I know that I'm one of the best in the world, I was amazed at how good Fedor is," said a stunned Sylvia. "He hurt me right away and submitted me. The guy's a stud. I don't even think he's human. That guy hits hard. I've never been hit that hard before."
By that stage, Emelianenko was a bona fide superstar, enjoying audiences with the likes of Russian leader Vladimir Putin and attracting crowds at public events in his homeland.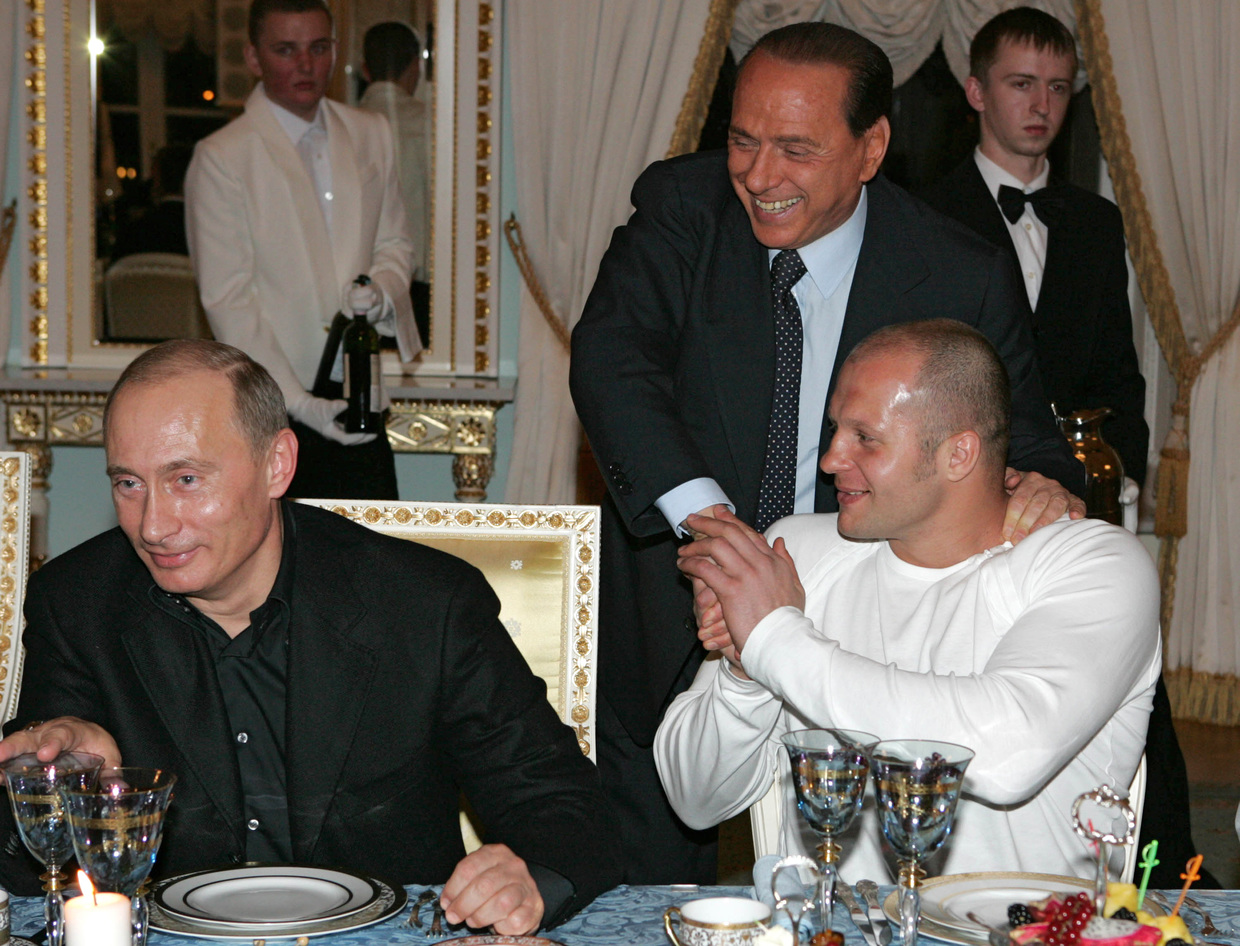 Emelianenko pictured with Putin and former Italian leader Silvio Berlusconi in 2007. © RIA Novosti / Vladimir Radionov
UFC AND THE DEAL THAT NEVER WAS
One of the enduring questions from Emelianenko's career will always be why he never signed with the UFC – the promotion which has come to be seen as the final destination for the MMA elite. While an agreement was never signed, sealed, and delivered, there was contact between the two sides at various points.
In 2010, UFC president Dana White said that signing the Russian had become an obsession for him. "I want it worse than the fans want it," White said of bringing Emelianenko into the promotion.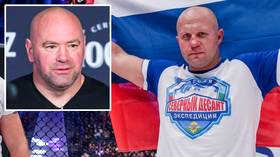 'I couldn't get a deal done with Fedor': Dana White says UFC were close to Fedor Emelianenko vs. Brock Lesnar superfight
Attempting to make a fight between Fedor and UFC superstar Brock Lesnar, White blamed members of the Russian's entourage, who he claimed thought they were "too cool, too slick and too f**king funny" to strike a deal, accusing them of making "the biggest f**k-up in the history of all sports."
The figures for the deal were purportedly as much as $2 million per fight, but White refused to accept a co-promotion with St. Petersburg's M-1 Global banner headed by Vadim Finkelchtein.
White mocked Finkelchtein and branded his demands, which allegedly included constructing an M-1 arena in Russia, as egregious. Finkelchtein denied the claims and said White had refused to allow Emelianenko to perform combat Sambo, which was "very important to him."
THE DEFEAT THAT SHOCKED THE WORLD
White said he warned Emelianenko that he was just "one punch away from being worth zero." While this didn't prove true, the words were something of a bad omen.
After he signed a three-year deal with Showtime to fight for Strikeforce, Emelianenko – who by that stage was 33 years old – suffered his first loss in a decade on his debut in June 2010, in one of the biggest upsets of all time against unfancied Brazilian Fabricio Werdum.
The Werdum loss was followed by two more defeats, and a reflective Emelianenko said of his change in fortunes: "Yes, I've lost my last fights, but every time there were definite reasons for that. Some changes in my family took place at that time and they affected my performance. Certainly, there were mistakes in my preparations."
"In the three bouts I lost, I felt like I could've won. But the win somehow eluded me. I felt I could do it. I had chances, but God's will was different," added the deeply religious fighter.
Indeed, faith plays an important part in Emelianenko's life; he is a man with a calm, softly-spoken demeanor which comes in stark contrast to the brutal punishment he dishes out in the cage. This lack of ego is something that has further endeared Emelianenko to fans, with the famous, somewhat garish sweater he often wore at press events even gaining its own mystique.
Although a family man, Emelianenko has drifted apart from his brother Aleksandr, a fellow fighter particularly renowned in Russia, whom Fedor claimed "said and did all sorts of crap, all sorts of nasty stuff."
"The rift happened a long time ago," Fedor explained in 2021. "The only person who could say the opposite point of view to Aleksandr in his eyes was me. It was a kind of conscience he had."
"His conscience wouldn't let him open his mouth in [my] direction. He sat and listened with a dejected look. Apparently, he got tired of it and broke off the relationship."
IN AND OUT OF RETIREMENT
Amid retirement rumors and following his run of defeats, Emelianenko returned to action in November of 2011 and put three wins together in the space of seven months. But after the last of those fights in mid-2012, following victory over Pedro Rizzo in St. Petersburg on an M1-Global card, Emelianenko did step away from MMA.
As ever, White was waiting in the wings to try and lure him to the UFC, but failed once more. This time more respectful than when negotiations had broken down three years previously, White hailed Emelianenko as "one of the greatest heavyweights ever."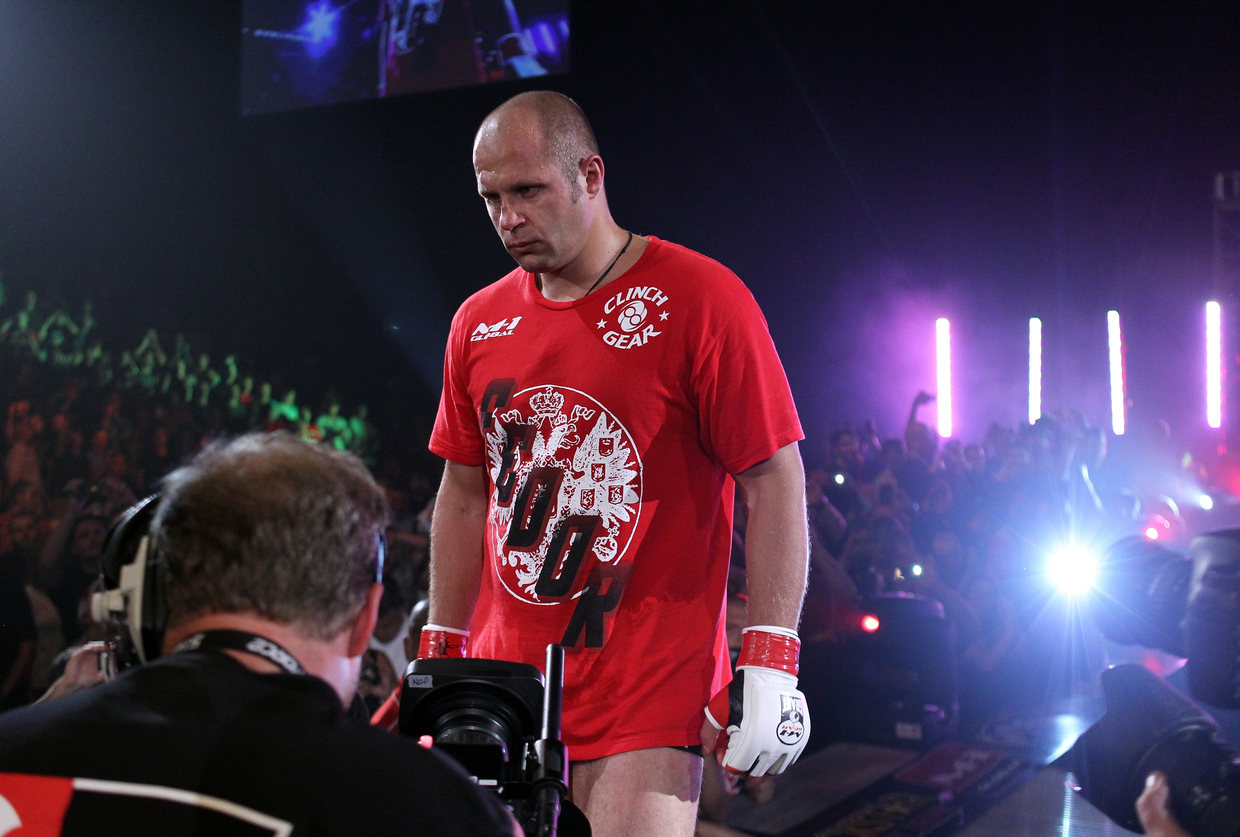 Emelianenko took time away from competition between 2012 and 2015. © Josh Hedges / Forza LLC via Getty Images
But by now managed by his wife Oksana and the Russian MMA Union, Emelianenko shocked the combat sports world in July 2015 when releasing a statement that read "I feel that it is time to return."
Given that he had parted ways with M-1 Global, rumors spread that Fedor would finally put pen to paper with the UFC, and Finkelchtein claimed that he had instigated talks between the two parties.
With Emelianenko also confirming in a Q&A that negotiations were in progress and that his wish was to face the "strongest fighters in the world," another surprise was in store when he subsequently announced he would fight for Rizin, run by ex-Pride FC boss Nobuyuki Sakakibara, on New Year's Eve 2015 in Saitama.
After the dust had settled, Emelianenko blamed the UFC's "draconian and oppressive" contract – which he thought was "one-sided" – for a third failure to come together. "I'm not ready to sign such an enslaving contract. First of all, they should show respect for the fighters – the kind of respect I receive in Japan."
In fighting terms, Emelianenko extended his winning streak to five victories with a comeback win over Jaideep Singh and a decision victory over Gabriel Maldonado in the summer of 2016 in St. Petersburg, in what was a particularly bruising contest.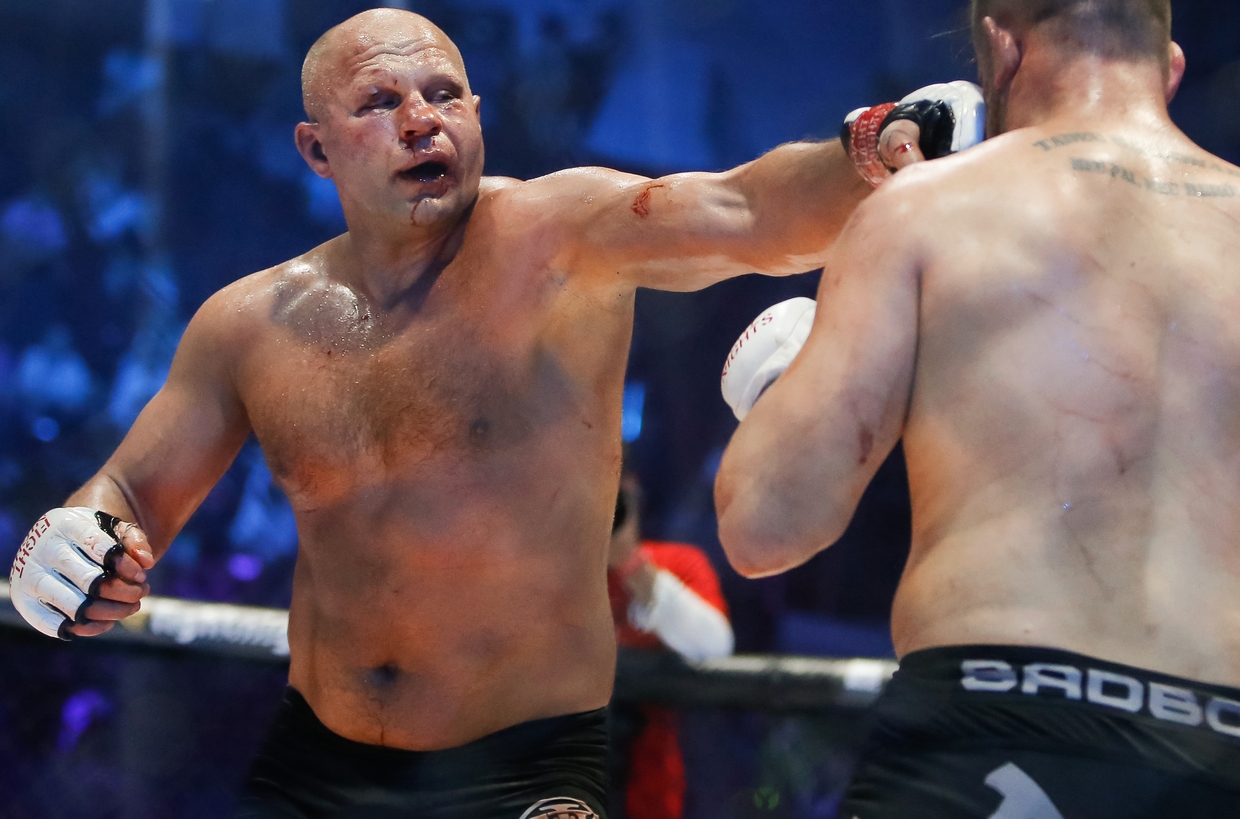 Emelianenko earned a decision win against Maldonado despite a brutal encounter. © RIA Novosti / Mikhail Kuravlev
AT HOME WITH BELLATOR
In another change of organization for Emelianenko, it was confirmed in a WWE-style announcement during Bellator 165 in November 2016 that the Russian would be heading to the promotion to face heavyweight rival Matt Mitrione. Emelianenko emerged through smoke at the event and told a rapturous crowd "I'm happy to be fighting in Bellator."
The Russian appears to have been happy with Bellator ever since. Though he dropped a first-round TKO loss to Mitrione in New York, he notched two impressive early finishes against Frank Mir and Chael Sonnen in the Heavyweight World Grand Prix quarterfinals and semifinals in 2018, ahead of losing the final to Bader in January 2019 – a defeat which Emelianenko has the chance to avenge this Saturday.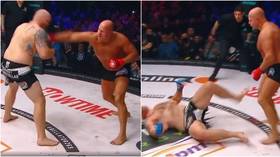 WATCH: Russian MMA icon Fedor Emelianenko claims sensational KO win over US rival Johnson at Bellator homecoming in Moscow (VIDEO)
Demolishing Quinton Jackson by TKO in Japan in December 2019, Emelianenko hasn't been seen in the cage since knocking out Timothy Johnson in Moscow in October 2021 at Bellator 269, in what was an emotional homecoming at the VTB Arena.
"It's a huge event for us," Emelianenko said at the time about fighting in his homeland. "It's been a while since I last fought in Russia, so it is a very big deal and I'm happy that we managed to be successful."
Emelianenko and Bellator bosses had harbored hopes of holding his farewell fight on Moscow's Red Square, which would have provided the perfect swansong, although those plans were shelved due to the conflict in Ukraine.
As it turns out, the Kia Forum in Inglewood, California, will provide the setting where Emelianenko gets one last chance at glory against Bader this weekend.
MMA BIDS FAREWELL TO A LEGEND
With Russian Bellator light heavyweight champion Vadim Nemkov under his tutelage, Emelianenko will have plenty to focus on even once he has retired. He also leads the Russian MMA Federation, symbolizing the enduring importance of Emelianenko for the sport in his homeland.
Such is his legacy, even if Emelianenko comes out second best against Bader on Saturday, he is already assured of a place in the Pantheon of MMA greats.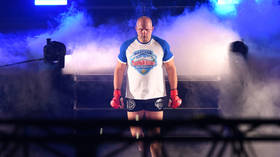 Russia's 'Last Emperor' granted blockbuster retirement fight
Antonio Nogueira, Mirko Cro Cop, Mark Hunt, Mark Coleman, Kevin Randleman, and Heath Herring – during his career Emelianenko has defeated some legends of the sport and inspired new ones.
"When you talk about heavyweights, Fedor's body of work has been amazing. Pound for pound, or in the legacy of what he's done, I haven't seen anybody out there who's done more," Bellator president Scott Coker said this week ahead of Emelianenko's final fight.
Though the likes of former UFC two-weight champion Daniel Cormier, who was himself known as 'Black Fedor' at the beginning of his career, have questioned if Emelianenko could have competed with the elite of the late 2000s in the UFC, other respected figures have described the Russian as unquestionably the greatest MMA heavyweight – with Sports Illustrated and numerous other big outlets naming him the best fighter of the first decade of the 2000s.
"Fedor is the greatest, no doubt," stated former UFC heavyweight champion Junior Dos Santos. "For me, in a matter of admiration, he is the greatest of all time. He is a heavyweight who beat everybody. He certainly was 'The Baddest Man on the Planet.'"
Plaudits have also come from the likes of Mike Tyson, who revealed back in 2012: "Fedor Emelianenko, my favorite of all time… He's always been the underdog, he's always the smallest guy and he always comes out victorious."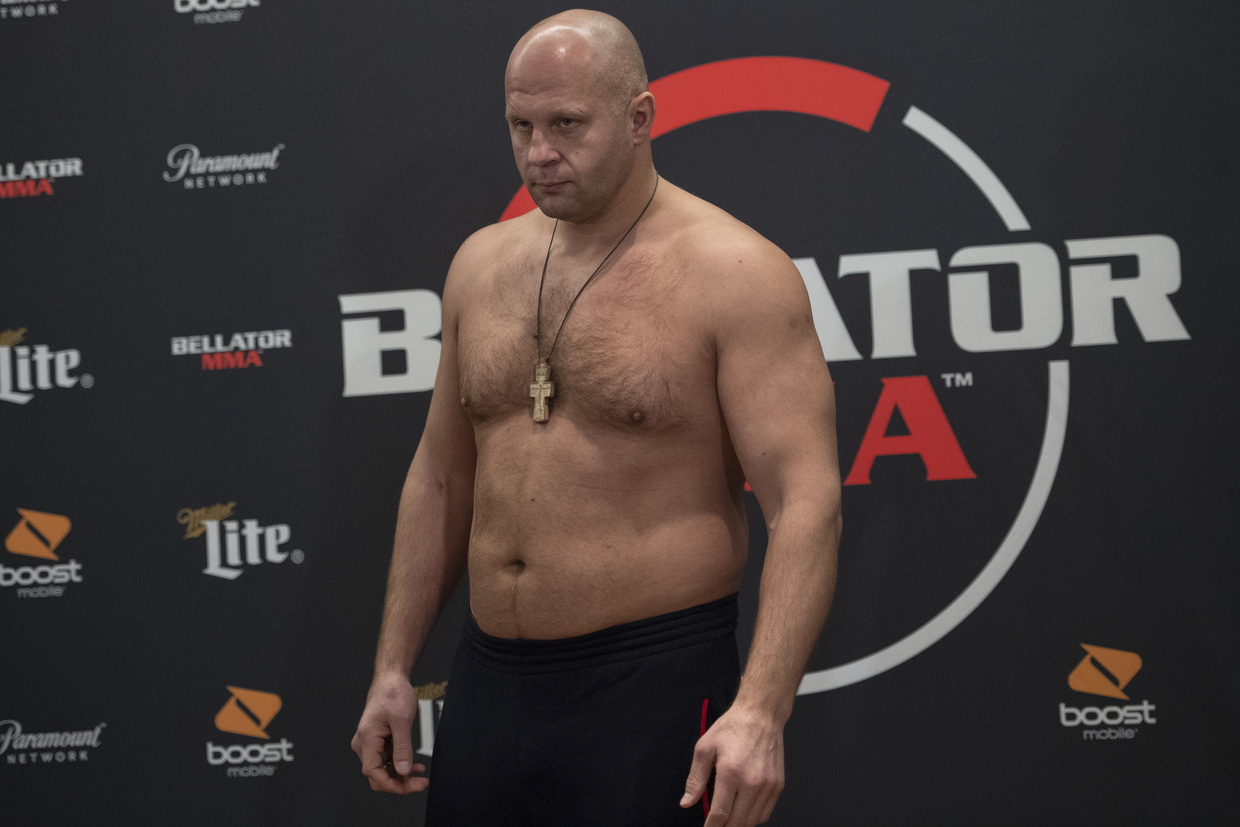 Emelianenko has enjoyed a happy relationship with Bellator. © Hans Gutknecht / MediaNews Group / The Los Angeles Daily News via Getty Images
'BE HAPPY WITH WHAT YOU HAVE'
Given his previous retirement reversals, there have inevitably been questions as to whether Emelianenko really will call it quits this time – but he is adamant that the fight with Bader will be his last.
"No," Emelianenko answered without hesitation to ESPN this week when asked whether he could fight again after Saturday. "Family is first. They've been waiting for me for a very long time."
And as for the UFC, Emelianenko has no lingering regrets, saying: "Whatever God gave me, I was very happy with it. You don't have to think about things that never happen. You have to live in the moment and be happy with what you have."
MMA fans will certainly feel thankful that Fedor Emelianenko has graced their sport for more than 20 years, and that they can savor one last chance to witness 'The Last Emperor' this Saturday night.