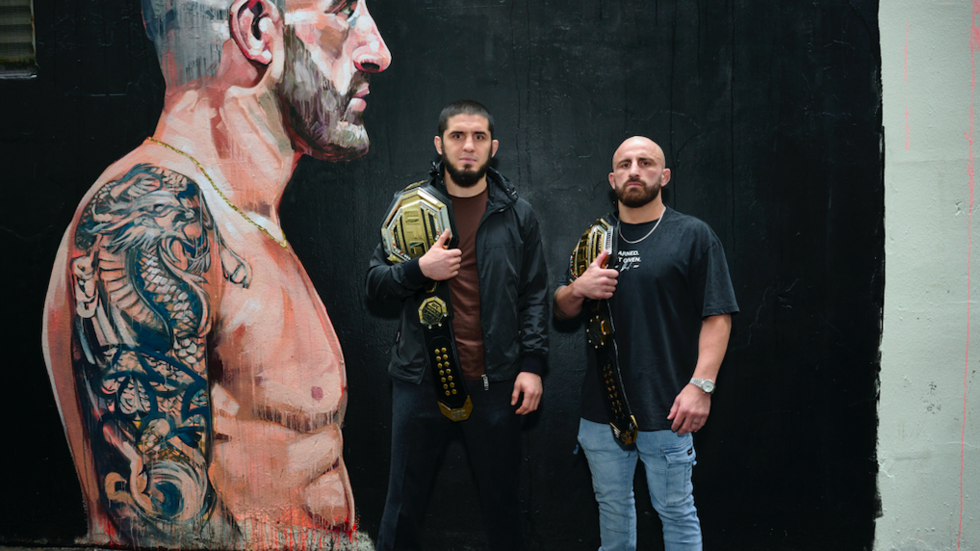 Islam Makhachev takes on the biggest challenge of his career next month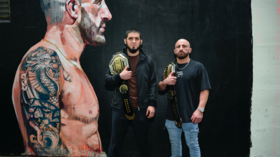 UFC lightweight champion, Islam Makhachev (L) and UFC featherweight champion, Alex Volkanovski (R) © Getty Images / Brett Hemmings/Zuffa LLC
If Islam Makhachev is to become the first fighter in a decade to defeat UFC featherweight champion Alexander Volkanovski, he must do so without the influence of close friend and training partner Khabib Nurmagomedov in his corner.
Makhachev takes on the first defense of the UFC lightweight title he won last October when he welcomes reigning featherweight king Volkanovski to 155lbs at next month's UFC 284 in front of what is expected to be a fiercely partisan Perth crowd cheering on the Australian champion.
The scale of the task awaiting Makhachev is already apparent but it has been made that much more difficult by the impending absence of former champion Nurmagomedov, who recently announced that he has decided to step away from mixed martial arts entirely to spend more time with his family.
But, according to Makhachev, this won't change the outcome of the fight.
"When the cage door close, no one is there for you," Makhachev said this week at a media event in Australia promoting the fight alongside Volkanovski.
"Of course, it's going to be different but I've already fought without [Khabib there] a couple of times. And he cannot always be with me. Of course, it's very good when he is here.
"I always like when he is with me because he knows all the games being played. He knows what you need for the fight, for the weight cut, you don't have to worry about any of this.
"It's always good when you have someone as experienced as him. You don't have to spend your energy thinking about other things. But I understand that he has to spend more time with his family. Because with all the fighting, the training, his family miss him too. Even though he is retired he's still traveling a lot.
"That's why I understand."
View this post on Instagram
Despite Khabib's insistence that he was withdrawing from the sport, many had expected him to do so only after February's fight.
Nurmagomedov, who previously held the UFC lightweight title which now rests on Makhachev's shoulder, seemed to be key in helping to arrange the fight – even calling for Volkanovski to be the first title defense just moments after Makhachev won the vacant championship by submitting Charles Oliveira.
Khabib had a tremendously successful coaching run in 2022, overseeing the rise to world titles of both Makhachev and his cousin Usman Nurmagomedov, who won the Bellator lightweight championship in November.
But the man whose goal it is to seize the title belt next month in Perth says that he is only concerning himself with the fighter who will be standing opposite him when the cage door shuts on February 11.
"They better not use it as an excuse once this is all done," Volkanovski said.
"At the end of the day, Makhachev will prepare and we're going to fight. He doesn't need someone to hold his hand. Doesn't need someone to be in there with him. That's not a real fighter.
"So when my hand gets raised, that better not come up."