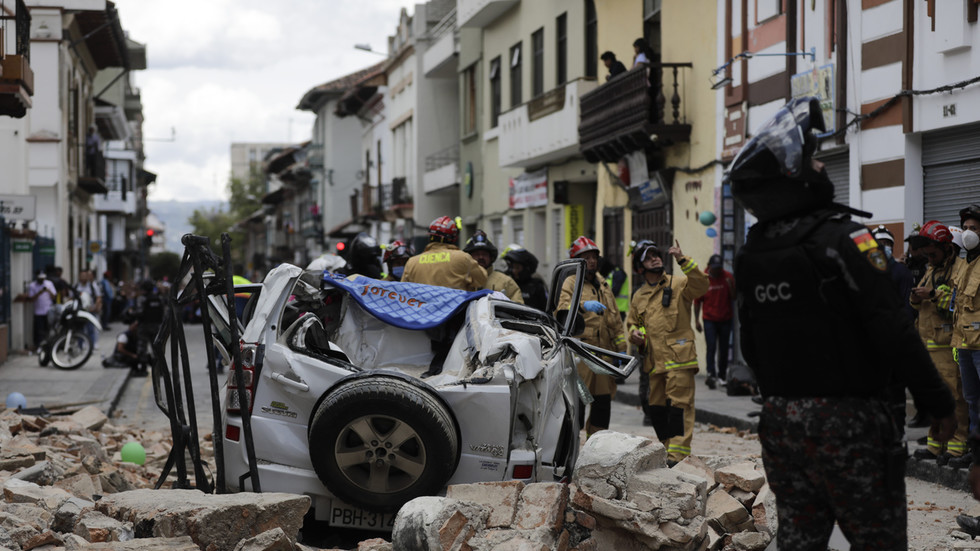 The magnitude 6.7 quake killed at least four people and caused widespread damage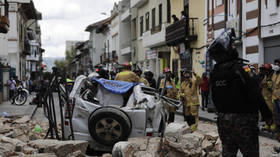 A police officer looks up next to a car crushed by debris after an earthquake shook Cuenca, Ecuador, March 18, 2023 © AP / Xavier Caivinagua
A magnitude 6.7 earthquake struck Ecuador on Saturday, damaging roads, leveling buildings, and killing at least four people.
The quake struck the coastal Guyas region at around noon, the US Geological Survey reported. Its epicenter was located roughly 80km (50 miles) south of Guayaquil, the country's second-largest city.
Authorities reported one death in the town of Cuenca, which is located inland to the east of the epicenter. The victim was traveling in a vehicle that became trapped under the rubble of a collapsing house. Another three people died when a structure collapsed on the island of Jambeli, immediately to the south of the epicenter.
Elsewhere, destruction of houses, commercial buildings, power and energy infrastructure, and roads was reported by Ecuador's Risk Management Secretariat.
Video footage from affected areas showed some of the damage, with clips from Cuenca appearing to capture the immediate aftermath of the fatality there.
⚡️Destruction in Ecuador after 6.9M earthquake. pic.twitter.com/GQQ20dsjsb

— War Monitor (@WarMonitors) March 18, 2023
#SISMOUna casa colapsó en #Machala debido al fuerte #sismo sentido hace minutos pic.twitter.com/3k4avJGulT

— Zoom Ec (@ZoomEcuador) March 18, 2023
Reportan daños materiales en Puerto Bolívar a consecuencia de #Sismo de 6.5 pic.twitter.com/bAhiCwAd5R

— A ɴ ᴅ ʀ ᴀ ᴅ ᴇ. (@JoshuaAndrade__) March 18, 2023
Ecuador sits along the junction of the Nazca and South American Plates, and suffers regular earthquakes. The most powerful one in recent years was in 2016, which registered a magnitude of 7.8 and hit the country's northwestern coast, near the town of Muisne. It killed at least 675 people and injured more than 16,000, while causing around $3 billion worth of damage.