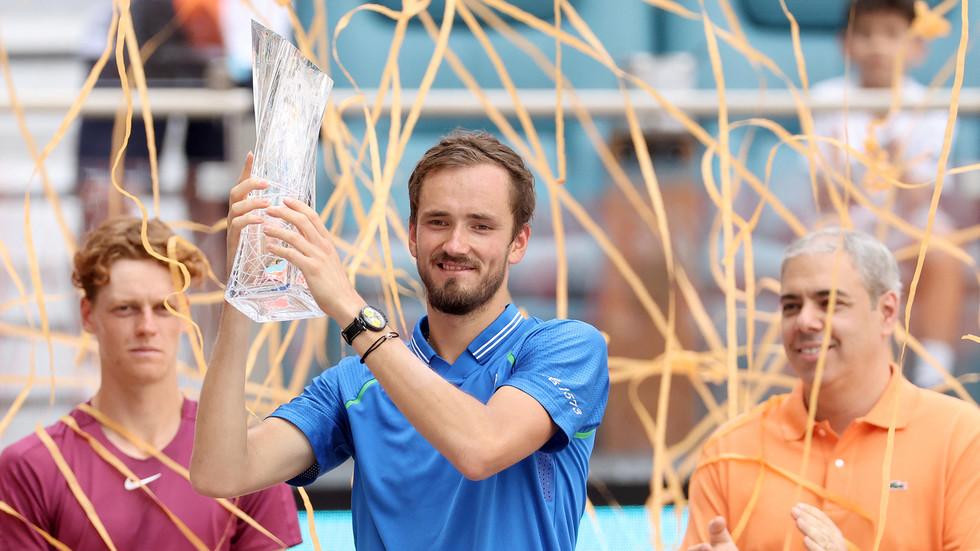 The 27-year-old tennis player is the second Russian to win the tournament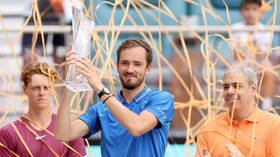 Daniil Medvedev wins the Miami Open in Florida, April 2, 2023. © Matthew Stockman / Getty Images / AFP
Russian tennis star Daniil Medvedev topped the ATP race for best player of the season after winning the Miami Open on Sunday.
The 27-year-old player from Moscow beat Italy's Jannik Sinner, collecting his fifth ATP Masters 1000 title. Medvedev is only the second Russian to win the Florida tournament after Nikolay Davydenko's 2008 victory.
"I'm really happy. Today was a tough match. It was probably the hottest day and the most humid during the day," Medvedev, who is currently ranked No. 4 in the world, said after the 7-5, 6-3 win against Sinner. "The hands get a little shaky so the serve is a little bit tougher… I managed to get myself together and close the match."
Medvedev's triumph in Miami comes after winning tournaments in Rotterdam, Doha, and Dubai, and finishing second at the Indian Wells Open in California.
Wimbledon reluctantly lifts Russia and Belarus ban
Unlike many international sports federations, the ATP allows athletes from Russia to participate in its events. Russian athletes have been barred from most global tournaments following the launch of Moscow's military operation in Ukraine early last year.
Medvedev told reporters in Florida he is happy that Russian and Belarusian players were recently allowed to compete again at Wimbledon after a one-year ban.