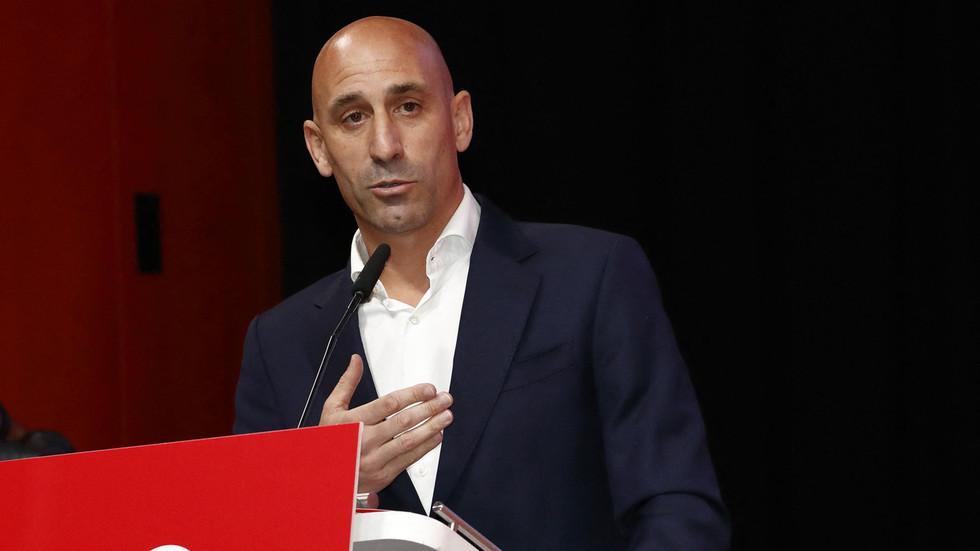 Luis Rubiales had been suspended by the country's sports regulators and FIFA following a scandal over his treatment of a female player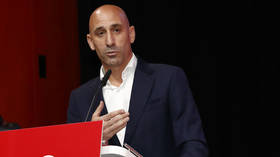 Former President of the Spanish Royal Football Federation (RFEF) Luis Rubiales © AFP / Eidan RUBIO/RFEF/AFP
Luis Rubiales, the president of the Royal Spanish Football Federation, has resigned in scandal after kissing a female player on the lips – apparently without her consent. He has already been suspended by FIFA, and could soon also face legal action, with several criminal complaints having been filed against him.
Appearing on Piers Morgan Uncensored on Sunday, Rubiales explained that he was stepping down "because I cannot continue my work." The former football boss revealed that his family and close friends had advised him to do so.
The federation confirmed that same day that Rubiales "has presented his resignation tonight," adding that "he also resigns from his position as vice president of UEFA."
Last week, prosecutor Marta Durantez Gil filed a complaint against Rubiales in Spain's High Court, arguing that there could be grounds to charge him with sexual assault and coercion.
The football player at the center of the scandal, Jenni Hermoso, lodged a criminal complaint of her own around the same time.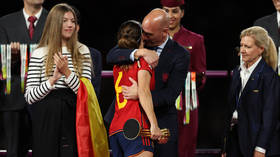 Sexism scandal soccer boss faces high-court action
The Spanish High Court previously indicated that the former football executive could face up to four years behind bars, if found guilty of sexual assault.
Late last month, the global football governing body, FIFA, suspended Rubiales for 90 days, banning him from participating in events at the national and international level, pending disciplinary proceedings against him.
Spanish sports authorities also suspended the then federation president.
The incident in question took place on August 20 in Sydney, Australia, after the Spanish women's team beat England 1-0, winning the World Cup for the first time in its history.
Rubiales grabbed Hermoso by the head and kissed her on the lips during an award ceremony that followed.
The football executive at first insisted the kiss was "spontaneous, mutual, euphoric and consensual."
Hermoso, however, said the interaction made her feel "vulnerable and like the victim of a sexual assault." She added that Rubiales' "impulsive, macho act" occurred with "no type of consent on my part."
Despite mounting criticism, the former federation president initially dug in his heels and refused to step down, claiming that he had fallen victim to a "witch hunt" by "false feminists."
However, he did apologize for his behavior, describing it as a "mistake."